Indian Cook School Gift Vouchers
You can also buy vouchers from Tabla Indian Restaurant,
173 south street Perth PH2 8NY,
phone:01738444630
Open Sunday 5-10pm, Monday to Saturday 12-2 & 5 - 10pm.
While buying from tabla you can only pay by cash, we have no card payment facility available for Cook School gift vouchers at Tabla.
Gift Vouchers purchased online are sent too you as a printable link in your confirmation email.
The recipient can then book their class online using the unique code on their voucher.
Gift Voucher
All level of cooking abilities in the kitchen are welcome and we will make sure that every one has a fantastic time with us.
Cooking is a hands-on activity and quickly breaks down barriers to develop team spirit and build new skills. Collaborating with work colleagues in the kitchen fosters a great new way of working together, even for those who aren't natural team players. You can be assured of a uniquely great experience with us. All level of cooking abilities in the kitchen are welcome and we will make sure that everyone has a fantastic time with us.
Here is a selection of the type of thing you will be making.
PAPADOMS
SPICY ONIONS
Mint chutney
Raitha
Vegetable Pakora
Tandoori Salmon
Chicken Bhuna
Tadka Dal
Chapatti
Rice
About Indian Cook School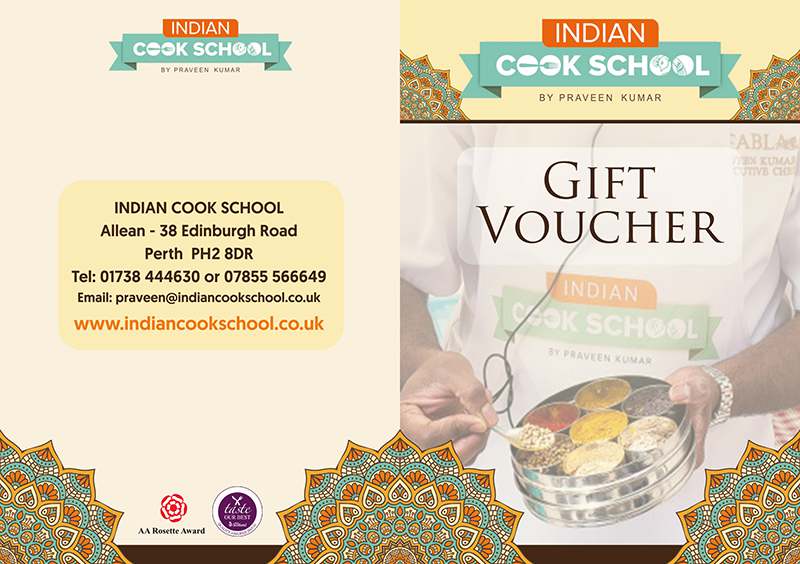 How our Gift Vouchers Work
Choose the type of tickets you would like to give. Choose to have your vouchers sent to you, or directly to the recipient, by email.
Please note when purchasing a Gift Voucher the entire order will be sent on one Gift Voucher.
Activating Your Gift Vouchers
When you are ready to redeem your gift voucher go to
Activate My Voucher
and enter your voucher number.
You will be able to choose the date that you would like to attend and your tickets will be sent to you or be available for collection at the door. All vouchers are subject to availability and we do recommend booking quickly.